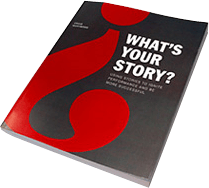 $

14.95
Listen to an excerpt: The Story of the Wolf.
Listen to an excerpt: Van's Birthday Story.
In this audio second edition of Craig's book What's Your Story? entrepreneur, and master story teller Craig Wortmann demonstrates the powerful impact stories have on the three most common performance challenges—leadership, strategic selling, and motivation.
While the technique of telling stories is the oldest form of communication—it's also the one form that rises above the din of our information-saturated environment and delivers messages in a way that connects with people, bringing ideas to life and making them actionable and memorable.
Leaders of all levels will learn how to use the toolset developed in this book; the Win Book, Story Matrix and Story Coach to capture and tell the right stories at the right time to inspire their own performance and the performance of those around them. Through real-life scenarios, illustrations, quotations, tools and examples, Wortmann guides readers through the process of uncovering their stories.
Table of contents
Part 1 – Problem
Chapter 1 – Awash in bits and bullets
Part 2 – Solution
Chapter 2 – Stories Work
Chapter 3 – Work Stories
Part 3 – Tools
Chapter 4 – The Win Book
Chapter 5 – The Story Matrix
Chapter 6 – The Story Coach
Part 4 – Practice
Chapter 7 – Leadership Stories
Chapter 8 – Selling Stories
Chapter 9 – Motivational Stories